Where Can Property Owners Seek Help When in Need of Mold Remediation Services in Oakland?
5/30/2021 (Permalink)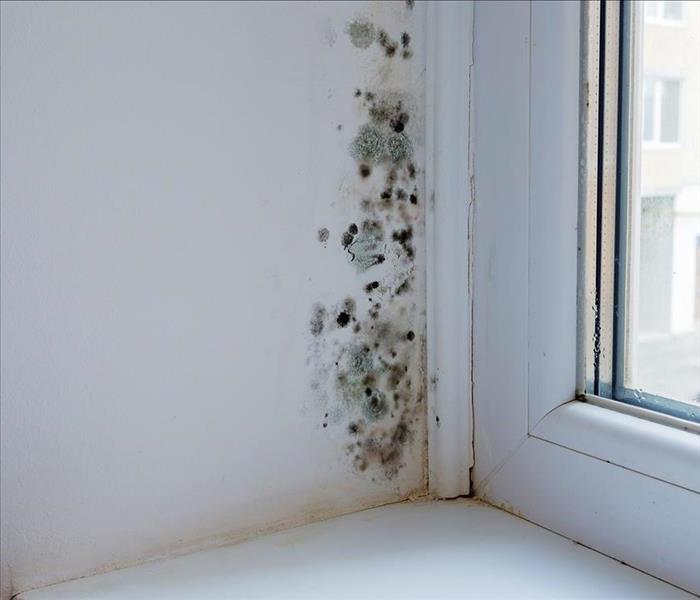 SERVPRO dries the water soaked wall by the window, removes the mold, and applies an antimicrobial, "Like it never even happened."
They Should Hire Restorers from SERVPRO to Deal with Oakland Mold Damage

When mold grows in your home, it is vital to eliminate it quickly. Delaying the restoration process can mean costly and extensive remediation services. Mold can grow on trim, drywall, or unfinished wood surfaces. If the area is more than ten square feet, hiring a company like SERVPRO can help you to remediate the mold.
Mold remediation in your Oakland home can be a daunting task but you need to ensure that it is done at a reasonable price. With SERVPRO's mold removal team, you can rest assured that we can complete the job right the first time. The cost of mold remediation varies based on the job. You are always presented with an estimate and scope of the mold remediation needed.
Mold Growth Needs Moisture
Water can enter your home through structural openings like foundations, windows, pipes, roofs, and leaky pipes. It can also enter your home because of:
Misdirected sprinklers
Poor drainage
Floods
High humidity during the summer
Lack of air conditioning
Inadequate ventilation
High humidity can cause materials to dry more slowly while low humidity improves drying. Air temperature affects the ability of water to move out from materials and the capacity of air to hold moisture. Our SERVPRO restorers can establish an initial environment that improves drying. We understand how to manipulate humidity and temperature levels to produce optimal drying conditions without causing secondary damage. We can isolate the affected area and use antimicrobial products to remove any remaining mold. Trust the IICRC certified technicians from our team to follow professional standards.
SERVPRO can also use an encapsulant or sealer to make the treated areas more resistant to water damage and mold infestations and also assist with odor control.
When your home has mold damage, you can trust SERVPRO of West Oakland to restore it to its normal state. Our 24-hour hotline is (510) 599-9300. We're Faster To Any Size Disaster.