Where to Get Storm Flood Damage Restoration Services in Oakland
10/29/2021 (Permalink)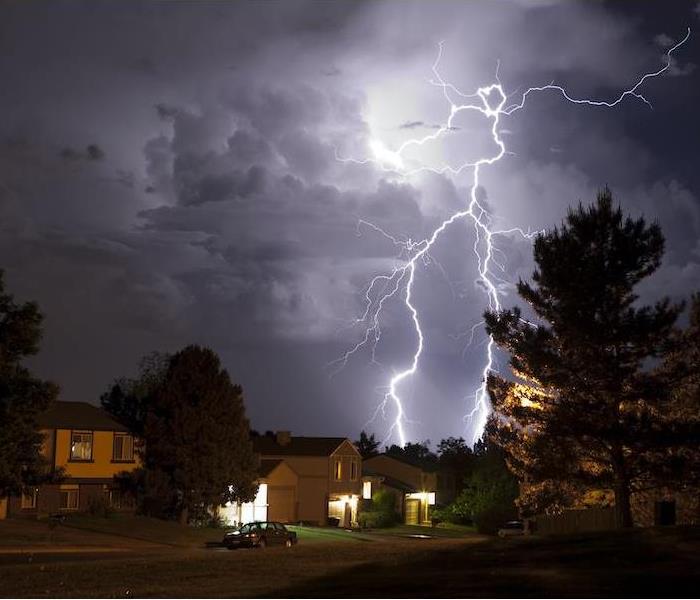 Homeowners have to deal with many things which may include storm damage. SERVPRO is available 24/7 to assist with remediation services.
Property Owners Can Hire SERVPRO to Obtain Storm Flood Damage Repair Services in Oakland
It is impossible to stop storms and floods because they are natural forces. However, they leave behind destruction on a larger scale. You need to hire a professional restoration firm to deal with the destruction. SERVPRO can help you to save your property and keep it from sustaining irreparable destruction.
When a storm strikes, there is stress and destruction that the heavy winds impose upon the structure of a home. That's one of the things we can handle when performing storm flood damage repair in your Oakland residence. Our team is trained and certified to handle all kinds of issues arising from storm damage. SERVPRO's comprehensive flood damage restoration services include:
Water Extraction – This involves getting the flood water out of the home using portable pumps.
Drying – We use efficient equipment like refrigerant dehumidifiers to dry the affected building materials.
Cleaning – Flood water often contains microorganisms. We use antimicrobial products to eliminate microbes. These products act against microorganisms to prevent their development or to stop or limit their growth.
Deodorization – Our SERVPRO team can eliminate bad odors using products like deodorizing pellets or granules, odor counteracting beads, and water-based counteractants.
Full Restoration – We provide full restoration services to restore your home to its pre-damage state, including roofing repair, carpet replacement, and hardwood flooring repair.
After storm flood damage, structural items such as subfloors and walls may need cleaning. Our SERVPRO team can clean restorable materials using the right cleaning method for the kind of material affected. We use professional products based on the label requirements. We ensure that a home looks great or even better than it appeared before the water damage.
Our technicians can also evaluate all the items exposed to high humidity for cleaning needs. If some of your wood furniture has been exposed to high humidity, we can clean and polish it.
When you need assistance in restoring your property after storm flood damage, call SERVPRO of West Oakland at (510) 599-9300. We're Faster To Any Size Disaster.