Fire Damage Restoration Services for Businesses?
2/1/2021 (Permalink)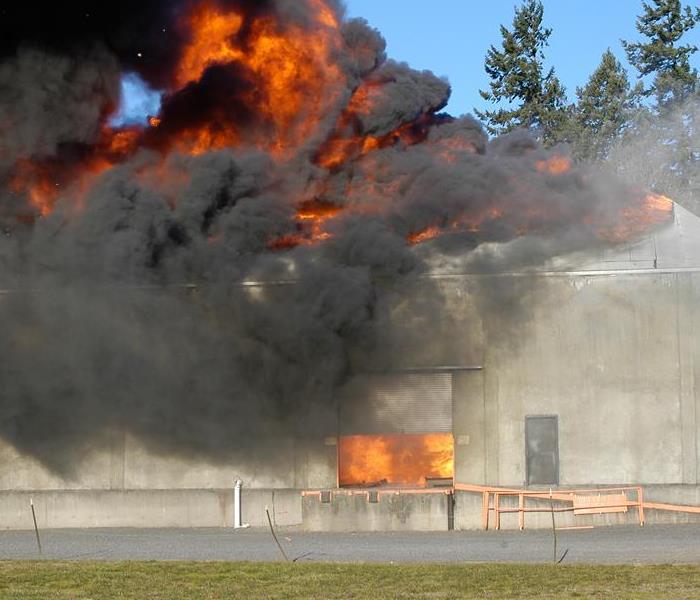 Fire damaging your commercial property can be overwhelming immediately, call SERVPRO for relief today.
SERVPRO Can Help Remediate the Fire Damage Troubling Your Emeryville Business
Owning a local clothing boutique in Emeryville can be incredibly rewarding, but fire damage could rain on your parade. Stocking unique fashion pieces from small businesses, and supporting local craftsmanship, is an excellent niche for your store. Modernly, the younger generations are attracted to eco-friendly fashion. However, fire damage could cause significant clientele loss if not dealt with quickly.
Here at SERVPRO, we want to help you restore the fire damage in your Emeryville boutique as soon as possible. We understand how hard it is for a business to have its doors closed for even a single day. A fire could have your doors closed for much longer if not handled immediately and adequately.
What Can SERVPRO Do to Help Me?
Our technicians are expertly trained and have access to advanced technological devices explicitly designed with fire damage restoration in mind. We can:
Come to your aid whenever you need it: morning, night, weekends, and holidays
Take inventory of your stock to help you measure your losses
Thoroughly remediate the damages inside of your building, including both what you can see and what you can smell
We know one of your primary concerns is how the smoke damage may have impacted your stock- after all, you sell clothing. Our goal is to help remediate what is salvageable. What we cannot save of your inventory, we can help you claim with your insurance adjuster.
How Can You Address the Powder Extinguisher?
One aspect many people don't consider is how much of a mess snuffing-based extinguishment can make. However, here at SERVPRO, we come prepared. Our technicians can:
Use vacuums, brooms, and rovers to remove debris and dust from your property, including ash and powder-based extinguishers
Once finished cleaning the physical remnants of the small fire, we can address malodors with technology such as thermal foggers
Hydroxyl generators are another great way to reduce malodors inside of your store
Our technicians' goal is to get your store back to its preloss condition as quickly as possible. The sooner you open the doors, the less loss you face.
If your business suffers fire damage, never wait. Call SERVPRO of West Oakland by phoning (510) 599-9300. We're always ready to help!