Does SERVPRO Handle Mold Remediation in Oakland for All Types of Mold?
8/26/2021 (Permalink)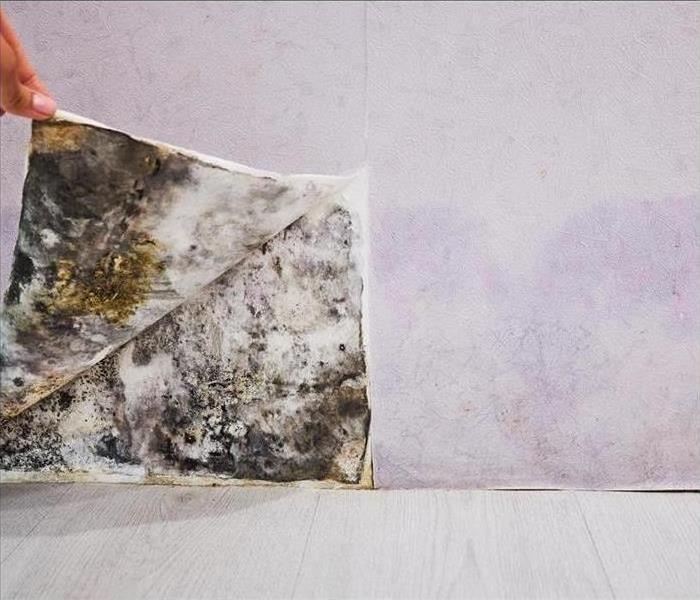 SERVPRO is trained and has the Personal Protective Equipment (PPE) to safely remediate mold in your home.
SERVPRO Has Extensive Training in Mitigation of Mold Damage in Oakland Properties
When mold damage occurs in an Oakland property, although there are many types of mold, all species have some similarities, such as:
Airborne spores are harmless and often airborne
Mold spores can enter homes through anywhere air can flow
Spores will not germinate without moisture
Colony growth gets sustained with an organic food source and temperatures above 60 degrees Fahrenheit.
Mold remediation needs to begin in Oakland properties as soon as possible to limit the spread. It is essential to know the different types of mold being seen. Here is a brief overview of common mold types found in Oakland properties:
Cladosporium may appear in green, brown, gray, or black colors and powdery, dusty appearance. Spores can become airborne if disturbed through wiping. Aspergillus may be white, yellow, and sometimes turn black.
Penicillium is the white or greenish fuzzy mold most often found on food.
Alternaria is a dark green, gray, or black mold with long-reaching "hairs." This type of mold is frequently found on carpets, clothing, and textiles.
Stachybotrys is a type most people have heard of, also known as "Black Mold." It can grow on practically any surface and tends to have a slimy appearance.
Memnoniella mimics the appearance of black mold but is not wet or greasy looking.
SERVPRO technicians have comprehensive training for safely handling the mitigation for all types of mold. The technicians do not perform air quality tests to determine the mold types present in the home. We treat mold infestations following specific protocols, not based upon the mold species. Most importantly, they can dry and remediate the colonies and apply treatments to inhibit the issue's return.
Call SERVPRO of West Oakland at (510) 599-9300 when the need for fast, efficient, and professional mold remediation arises. The technicians are available 24/7 for Oakland property owners.