What Repairs are Necessary after Water Intrusion in Oakland Business Premises?
3/1/2021 (Permalink)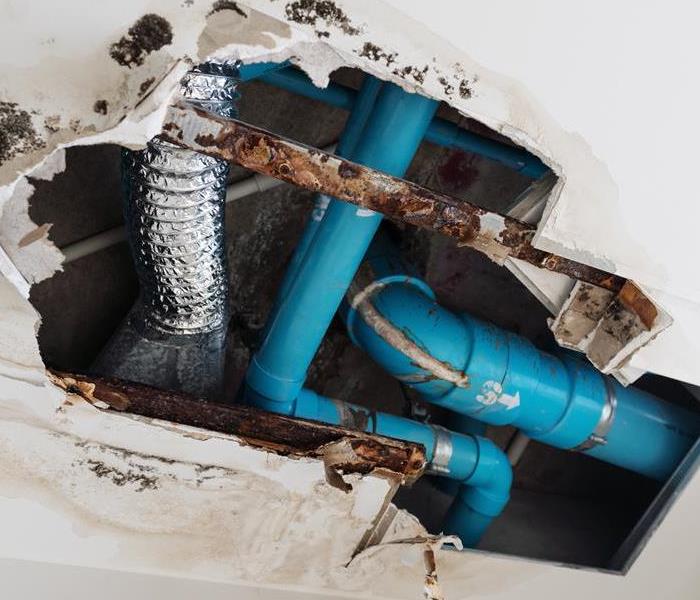 Water damage can take over quickly especially in a commercial establishments. With larger pipes and more water, call SERVPRO today.
SERVPRO Evaluates Property to Determine the Best Water Damage Repair Approach
Water leaks and other intrusions in business premises are disruptive and require immediate attention to restore normal operations. You may expect that once you wipe off wet surfaces and open some windows, the problem is solved. However, in some cases, the problem extends beyond the excess moisture necessitating repairs.
Water damage repair tasks in Oakland range from challenging ones such as replacing wall or ceiling materials to simpler ones like redoing surface finishes. The outcome mostly depends on the type of business, the contents, fixtures, structure of building and the amount of water involved and the time taken to complete remedial processes. Some of the common issues you have to fix after water intrusion include:
Chipped paint or changes to other surface finishes
Soft or weak drywall
Water stains on materials like wood, concrete, or glass
Inventory transport offsite for drying and cleaning
Water, whether clean or otherwise, can cause staining. Stains from clean water usually develop because of mineral deposits dissolved in the water, left on surfaces. Removing such stains requires the right cleaning products. SERVPRO utilizes specially formulated cleaning products such as Window Green Clean which readily remove the stains. Timely drying can help save drywall while repainting or refinishing surfaces is sufficient to restore them.
SERVPRO of West Oakland sends well-trained technicians to your business premises to help with water damage repair. Call us at (510) 599-9300.