How To Detect Mold Issues
8/16/2022 (Permalink)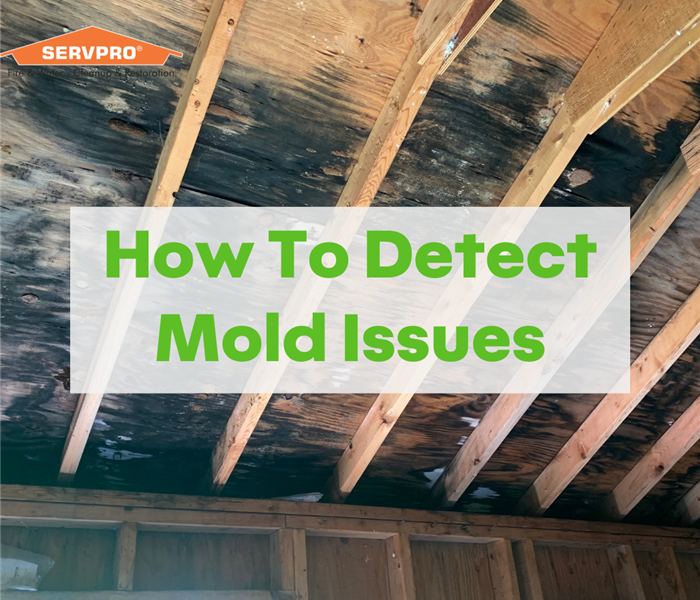 When mold starts to invade your home, dealing with mold removal quickly and safely should be a priority.
How To Detect Mold Issues
Mold thrives in moist, dark, and nutrient-rich environments. They may enter your house by any of your vents, doors, HVAC ducts, or windows. Molds may develop and spread in as little as 48 hours, which is much worse. Molds aren't simply dangerous to your house and possessions; they may also put your health at risk. But how can homeowners detect molds?
Musty Smell
In particular, if the musty odor originates from your HVAC system, this can signify the presence of mold. Mold thrives in moist and humid conditions, making your HVAC system an ideal breeding ground for spores.
Presence of colored blotches on Ceilings or walls.
There is a greater likelihood that water will drop from a roof hole or a fracture in your wall. Mold might begin forming on the leak or rupture if it isn't addressed. So this can lead to gray, white, or black blotches on ceilings or walls.
There are visible mold spores.
The most evident indicators of mold development can be seen with the naked eye, such as mold spores in your house's humid regions. Molds may be challenging to get rid of, even with soap and a sponge, since molds are such tenacious creatures.
Cold or flu symptoms
Mold may cause allergies and other respiratory issues such as persistent cold or flu. So, if you have these symptoms, watch out for mold presence.
If your home or business in Oakland, CA has been flooded, you should immediately contact a water damage restoration company. SERVPRO of West Oakland Water damage restoration company has the expertise to deal with floods and water damage quickly, reducing mold development and its consequences. Call us at (510) 599-9300.